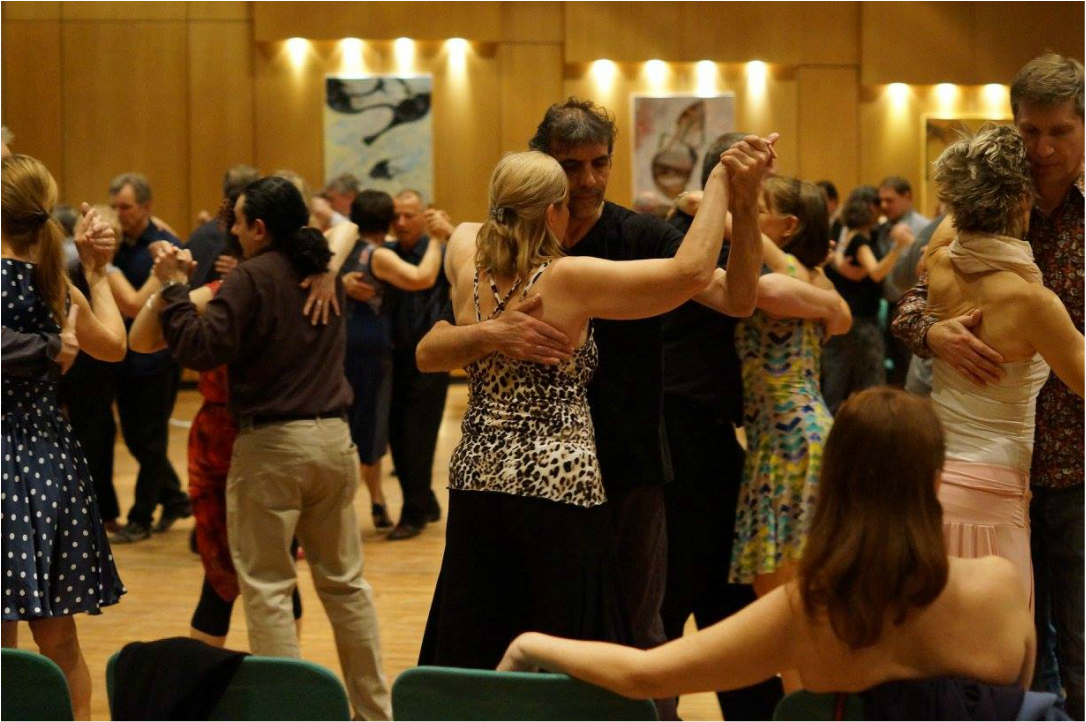 It has been a wonderful weekend! See you on 6-7-8 April 2018!
Registration opens on Monday, November 6th at 10:00PM (local time)
---------------------------
Saarburg Festivalito 2017
March 31st, April 1st and 2nd
"Milongueando en el '40"
Dear tanguero friends:
For the seventh year Antonio and I are happy to invite you to our Festivalito milonguero that will take place for the second time in a stunning location: in
Saaburg
, Germany (Rheinland-Pfalz). Although last year we moved to a different town, what remains the same is the spirit, the "soul" of our event: we pride ourselves in creating a very international environment, with good, respectful dancing, excellent music in a convivial atmosphere.
The "encuentro" is on the weekend of March 31st, April 1st and 2nd, 2017.
Please be aware that ladies registering as followers without a partner will be placed on the waiting list.
In the beautiful wine region of Rheinland-Pfalz, nestled among Germany, France and Luxembourg is this little gem of a town.
We invite you to join us once again for a weekend of great tango.
If you wish to join our mailing list please send us a message at frantangoba@gmail.com with subject FESTIVALITO SAARBURG 2017.
Program in English
Programma in italiano
Programm Deutsch
Programme en Français
​
If you are on FaceBook and are not yet a member of our private group FrAnTango Events you can request to join:
https://www.facebook.com/groups/frantangoevents/
Please note that this "encuentro" is open to a limited number of participants and it is dancing role (leader/follower) balanced. You are welcome to register without a partner, but please be aware that you might be placed on a waiting list.
The spirit of our event is to promote tango milonguero, as it is danced in all the traditional milongas both in Buenos Aires and in the rest of the world. It is a
social tango
and a
tango of embrace
.
In this spirit we would ask you to please follow a few guidelines:
-
Tandas & Cortinas:
music is presented in tandas. When the cortina starts, couples leave the dance floor and return
to their seats
. Please do not stand in front of seated people or in the middle of the dance floor.
-
Mirada & Cabeceo:
Please do not invite at the table, but use "Mirada & Cabeceo"
-
La Ronda:
couples move counter-clockwise on the dance floor, keeping their position in the ronda without zig-zaging or overtaking other couples.
-
Dress code:
please wear only tango shoes or tango sneakers on the dance floor. Dress can be casual, but neat, what in Argentina is called "elegante sport".
-
Feet on the floor please! No high voleos, high ganchos or big moves.- Dance in harmony with the other couples, using your space and respecting their space, thus avoiding unpleasant collisions.
We really look forward to welcoming you to the new home of our Festivalito for this springtime classic of great tango. FRANTANGO BUENOS AIRES - frantangoba@gmail.com
---