Saarburg Tango Festivalito 2017

"Milongueando en el '40"

Our International Musicalizadores


We are proud and happy to welcome to our encuentro a very international and talented group: Prasen el Carrerito, Marcelo, Fabio Figini, Veronica Bares, Antonio Martinez.

This year Europe meets the Rio de la Plata!


Prasen "el Carrerito" (France)
French
Prasen, d'abord un danseur et puis l'curiosité l'a amèné derrière les platines. Il a découvert le tango argentin à Paris au hasard, le coup de foudre était l'inspiration pour apprendre cette gracieuse danse et sa culture.
Il a d'abord commencer à organiser des milongas plein air à Paris pour mieux connaître la musique du tango et comprendre comment musicaliser, ensuite il a musicalisé dans des différentes milongas à Paris et ailleurs en France que ça soit milongas, festivals, marathons ou encuentros. En plus d'être un DJ, avec Séverine il co-organise la milonga "Esta Noche de Luna" à Paris où des maestros sont régulièrement invités pour des stages et démonstrations. "En Tus Ojos", une rencontre de tango argentin, un autre événement que ces deux organisent dans le sud de la France.
Le tango, c'est se comprendre soi-même et mieux connaître la relation avec l'autre. La milonga est un endroit social où les gens vont pour se retrouver, boire un coup avec des amis, rencontrer des nouvelles personnes, écouter de la musique. C'est la partie inhérente de "qui nous sommes". La danse fait partie de cela mais pas tout de cela. C'est une fête, c'est aussi la culture argentine. Comme toutes les sociétés, la milonga aussi a ses propres coutumes, comportements et règles. Les danseurs et le DJ doivent respecter l'étiquette de la milonga. Pour danser et musicaliser on doit connaître cette culture. La musique parle de quelques chose, comment et quoi? il est nécessaire de sentir cela.
Le rôle d'un DJ dans une milonga est d'offrir aux danseuses et danseurs les ondes et l'énergie uniques à chaque instant jusqu'au bout de la soirée pour ne pas les laisser partir. Leur donner l'envie est un jeu pour le DJ. La cortina est une partie cruciale de l'ambiance, "c'est la signature du DJ".

====

​English
Prasen, a dancer first, then the curiosity brought him behind the turntables. Discovered Argentine tango in Paris out of the blue, the love at first sight was an inspiration to learn this gracious dance and its culture.
He first started organizing open air milongas in Paris in order to know more about the tango music and understand how to DJ. Then he went on djing in different milongas in Paris and elsewhere in France be it milongas, festivals, marathons or encuentros.

Apart from being a DJ, with Séverine he co-organizes the milonga "Esta Noche de Luna" in Paris where the maestros are regularly invited for workshops/courses and performances. "En Tus Ojos", a tango meeting, an another event that two organize in the south of France.
Tango is to understand one-self and to better know the relation with the other. The milonga is a social place where people go to meet each other, have a drink with friends, meet new people, listen to the music, it's the inherent part of "who we are". Dance is a part of it but not all of it. It's a party, it is the Argentine culture. Like any society, the milonga has its own custom, behaviours and rules. The dancers and the DJ must respect the decorum of the milonga. In order to dance and dj, we need to know about this culture. The music tells something, why and what? it is necessary to feel these.
The role of a DJ in a milonga is to offer the energy and vibes to the dancers unique to each moment until the end of the evening in order not to let them leave. To give them the desire is a game for the DJ. The cortina is a crucial part of the ambiance, "it is the signature of the DJ". ====



---
---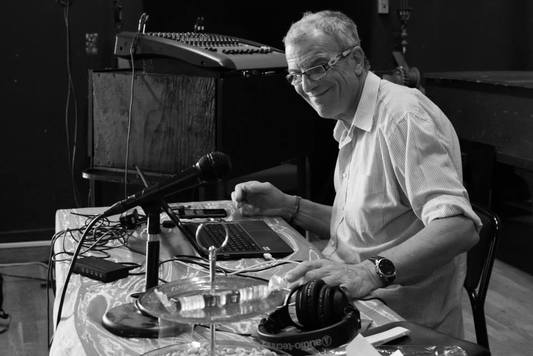 Marcelo (France)
After several long stays in Argentina, Marcelo is totally converted to tango milonguero, the only style he chooses to dance. His musical selections come directly from this style. He dj's choosing a selection of tangos from the Golden Age, alternating known orchestras with the "forgotten" orchestras, rhythmic tangos with the ones "with feeling". DJ in France, he spreads his experience: from Argentina to Germany, from Chile to Italy. The organizers in Spain, Portugal, Poland, Sweden have put their trust into him to liven up their events. With Marcelo you will dance "hasta romper los zapatos."

-------------------------------------------------
Après plusieurs séjours en Argentine, Marcelo est totalement convaincu par le tango milonguero, qu'il danse exclusivement.
Ses sélections musicales s'en ressentent, il musicalise avec une sélection de tangos des Années d'Or, alternant les orchestres connus et les orchestres «olvidadas » , tangos rythmés et « con sentimiento ».
DJ en France, il élargit son expérience : de l'Argentine à l'Allemagne, du Chili à l'Italie.
Les organisateurs d'Espagne, du Portugal, la Pologne, la Suède lui ont fait confiance pour animer leurs événements.
Avec Marcelo vous allez danser « hasta romper los zapatos ».


---
---
Fabio Figini (Buenos Aires)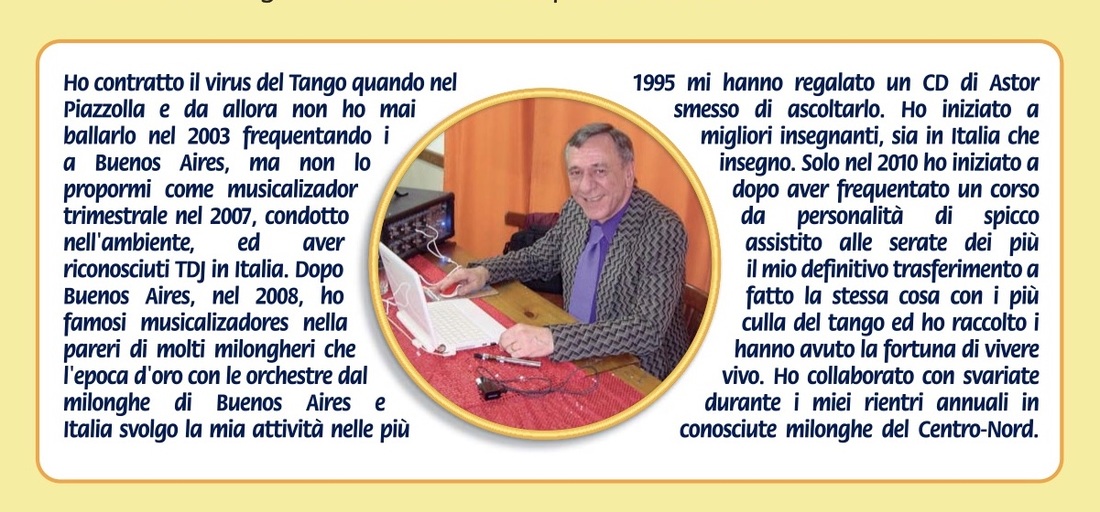 English
I caught the tango virus in 1995 when I was given a CD by Astor Piazzolla. Since then, I have never stopped listening to tango. I started to dance tango in 2003, taking lessons with the best teachers, both in Italy and in Buenos Aires, but I do not teach tango. In 2010 I started to propose myself as musicalizador after having attended a three-month class in 2007 taught by high profile tango DJ's and after having attended many events and milongas with the best DJ's in Italy. After permanently moving to Buenos Aires in 2008, I did the same following the most famous musicalizadores in the cradle of tango and talking to many milongueros who were lucky enought to have lived during the Golden Age of tango and who had had the chance to listen to those great orchestra performing live. I have been the musicalizador in several milongas in Buenos Aires and on a yearly basis I tour as DJ the milongas in the Center-North of Italy.


---
---
Veronica B​ares (Uruguay)
Veronica likes to say that tango belongs to the soundtrack of her life, as since she was born in Montevideo, Uruguay she felt an enormous love and respect for this music. It took her some time before she decided to learn how to dance tango, until she started to take classes with an old Argentinean maestro in 2001 when she was living in Vienna, the city where she lived for most of her life.
Since then, her tango collection kept getting richer with danceable tangos that she would select with great care for private events, until one day, when she was asked to DJ the most traditional milonga in Vienna, "El Firulete" and so finally...
"así salio a la luz una pasión que no para….."
(that's how an unstoppable passion was made public)
---
---
Antonio Martinez(Buenos Aires/Germany)
Antonio Martinez, Argentinian from Buenos Aires, a well-known and much appreciated teacher and dancer of tango, had the opportunity to gain his experience as "musicalizador" in Buenos Aires when he was collaborating with the organization Unitango. During that time, he was the regular DJ at the weekly milonga that Unitango organized at Confiteria Ideal, the historic cafe' of the "tango porteño". During his years in Argentina he also collaborated with several milongas in La Plata (in the province of Buenos Aires).
Antonio is very much inspired by the work of Carlos Rey, the resident DJ of some of the best traditional milongas of Buenos Aires, like "Cachirulo" and "Lujos" at El Beso.
Since moving to Europe Antonio has been gaining a strong reputation as musicalizador thanks to his classic, but yet very personal and original selections. He creates well-balanced tandas of music from the 30's, the 40's and the 50's.
Antonio is the resident Dj at
"La Tradicional" Milonga
in Saarbrücken.
More about Antonio
To follow where Antonio will be dj'ing next, check out his blog
http://antoniomartineztangodj.blogspot.it/
In Antonio's words: "Cada tanda va con la energia que es reciproca con los bailarines en la pista. Las cortinas, como un balsamo, descansan en el corazon, para volver en otro abrazo, como un bailarin de sueños."
---